John the baptist
Birth: Luke 1:5-63
Death: Matthew 14:1-11, Mark 6:14-28
Father: Zacharias/Zechariah
Mother: Elizabeth
Links open with New International Version (NIV) verses.
Unless otherwise stated, links applicable in both King James & NIV.
The following was foretold even before John was born. Luke 1:13-17:
13. But the angel said to him: "Do not be afraid, Zechariah; your prayer has been heard. Your wife Elizabeth will bear you a son, and you are to give him the name John.
14. He will be a joy and delight to you, and many will rejoice because of his birth,
15. for he will be great in the sight of the Lord. He is never to take wine or other fermented drink, and he will be filled with the Holy Spirit even from birth.
16. Many of the people of Israel will he bring back to the Lord their God.
17. And he will go on before the Lord, in the spirit and power of Elijah, to turn the hearts of the fathers to their children and the disobedient to the wisdom of the righteous--to make ready a people prepared for the Lord."
A prophet foreseeing the Messiah is foretold - Luke 1:5-25; John 1:1-28
John's fetus jumps in Elizabeth's womb upon hearing Mary's voice - Luke 1:39-45
Elizabeth gives birth to John - Luke 1:57-66
John prophesies of Jesus' coming - Matthew 3; Mark 1:1-8; Luke 3:1-20; Luke 7:18-35; John 3:22-36
Jesus Christ baptized by John near Bethany - Matthew 3:13-17; Mark 1:9-13; Luke 3:21-38
John imprisoned for speaking against Herod and his wicked wife - Matthew 11:1-19; Luke 3:20; John 4:12
John beheaded - Matthew 14:1-12; Mark 6:14-29
Andrew & Simon Peter, 2 of John's followers, become Jesus' first disciples - John 1:35-42.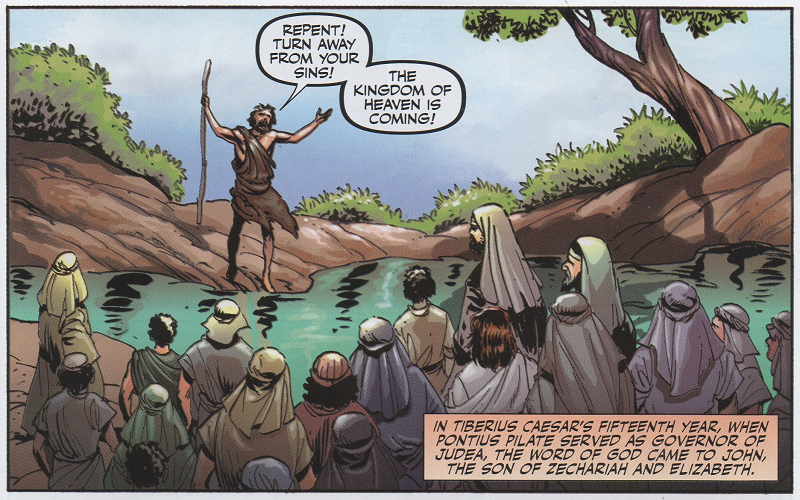 Reference only: