The armor of God illustrates protective gear that soldiers wear to survive combat.
Ephesians 6:12 (in the King James translation) which says "we wrestle not against flesh and blood, but against principalities, against powers, against the rulers of the darkness of this world, against spiritual wickedness in high places" shows that Christian values are under attack. To stay strong, we need to continuously read the Bible and yield to the leading of the Holy Spirit.
Scripture makes reference to the various armor pieces throughout the Bible. Isaiah 59:17 gives an initial example of the armor even though armor had been in use for a while by then.
---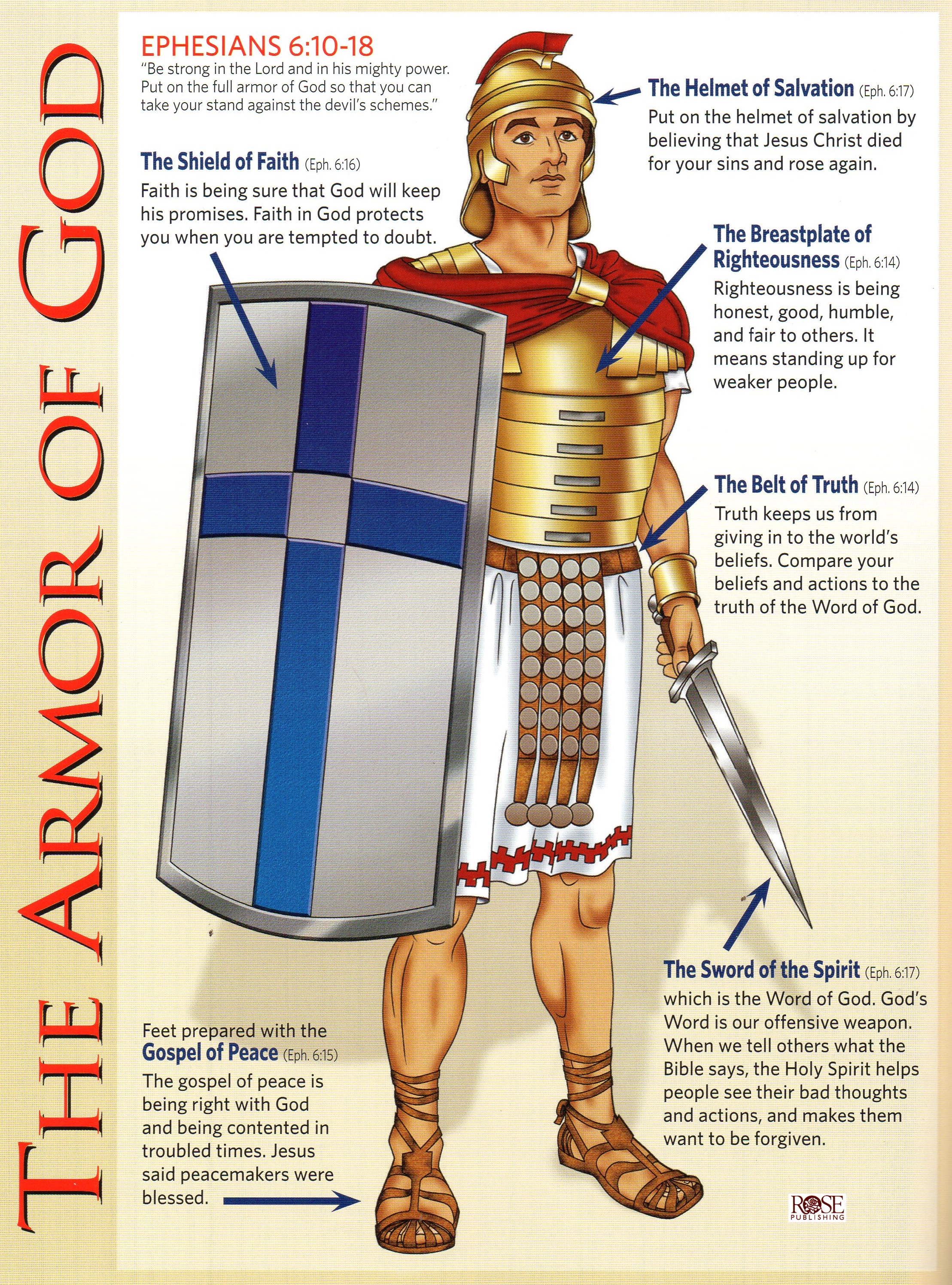 Image used with permission from Rose Publishing
Ephesians 6:10-18: (NIV)
10. Finally, be strong in the Lord and in his mighty power.
11. Put on the full armor of God so that you can take your stand against the devil's schemes.
12. For our struggle is not against flesh and blood, but against the rulers, against the authorities, against the powers of this dark world and against the spiritual forces of evil in the heavenly realms.
13. Therefore put on the full armor of God, so that when the day of evil comes, you may be able to stand your ground, and after you have done everything, to stand.
14. Stand firm then, with the belt of truth buckled around your waist, with the breastplate of righteousness in place,
15. and with your feet fitted with the readiness that comes from the gospel of peace.
16. In addition to all this, take up the shield of faith, with which you can extinguish all the flaming arrows of the evil one.
17. Take the helmet of salvation and the sword of the Spirit, which is the word of God.
18. And pray in the Spirit on all occasions with all kinds of prayers and requests. With this in mind, be alert and always keep on praying for all the saints.
1 Thessalonians 5:6,8-10: (NIV)
6. So then, let us not be like others, who are asleep, but let us be alert and self-controlled.
...
8. But since we belong to the day, let us be self-controlled, putting on faith and love as a breastplate, and the hope of salvation as a helmet.
9. For God did not appoint us to suffer wrath but to receive salvation through our Lord Jesus Christ.
10. He died for us so that, whether we are awake or asleep, we may live together with him.